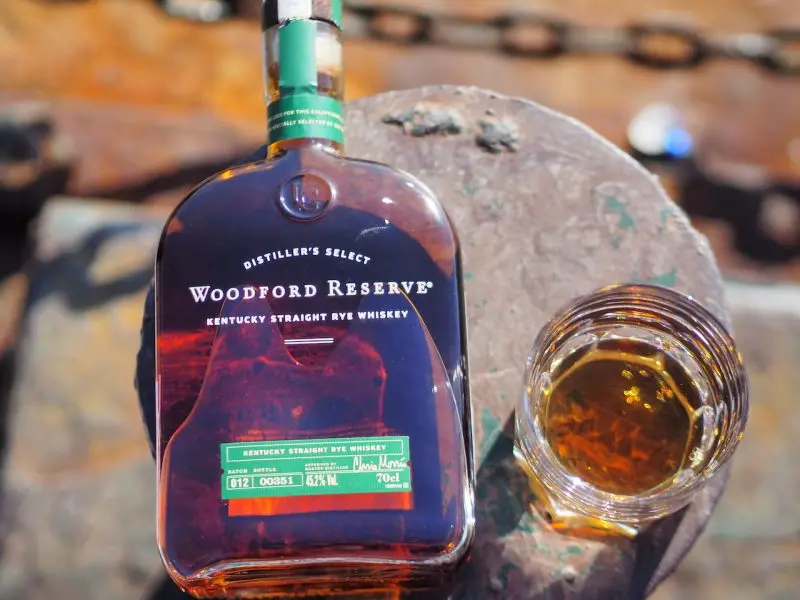 Country - Region: USA - Kentucky
Distillery: Woodford Reserve
Type: Kentucky Straight Rye 
Age: 6
Barrel: American White Oak
ABV: 45.2% 
Proof: 90.4
Price: $27.50
Nose: Intense spices slam your face. Black pepper, cinnamon, cedar wood and oak open your nostrils and then are followed by fruity aromas. Pear and cherries are ended by caramel and marzipan. Strong, rich and long lasting.
Palate: Palate hosts cocoa, milk chocolate and winter spices. By the mid palate spices starts to bite. Through the end mint, cloves can be felt joining caramel and honey sweetness. A definite feel of bourbon - rye - bourbon transition.
Finish: I expected a dry finish, though long lasting cinnamon, oak and cedar wood created a pleasant and juicy finish
As very well known, a rye whiskey should have at least 51% rye in the mash. Woodford Reserve Rye has a rye ratio of 53%. The rest of the mash is composed of 33% corn and 14% malted barley.
This is a simple whiskey for those who like Woodford Reserve Bourbon and want to try a rye whiskey. It distinctively shows rye characteristics while still winking at its bourbon roots. Especially some aeration creates wonderful essence.
I tried this whiskey with different styles; neat, with ice, watered, in a cocktail. According to me the best performance was the moments when I tried it neat and in some whiskey cocktails. Watering down decreases the bite and adding ice diminishes the rye character. If you are trying a rye whisky for the first time, drinking neat can be hot! Give it some time.
Tips: Try with Whiskey Sour and The Sazerac.