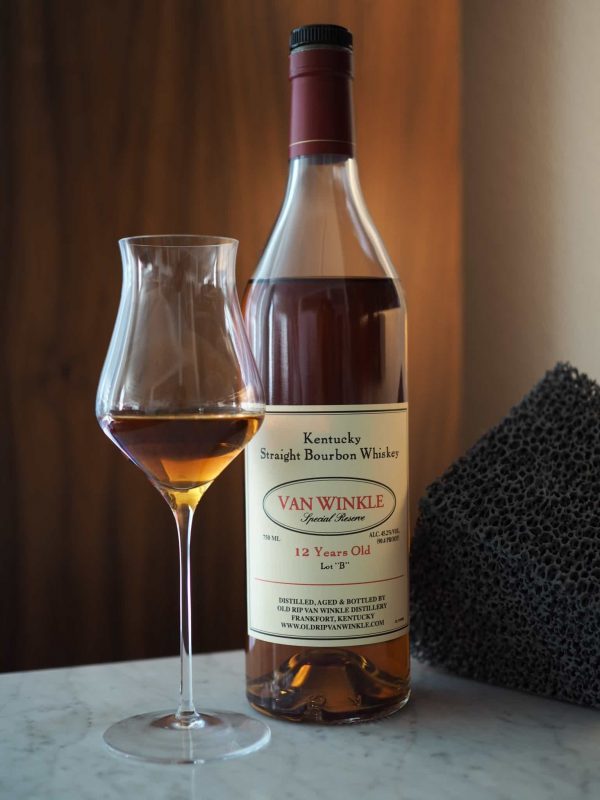 Country – Region: USA – Kentucky
Distillery: Buffalo Trace
Type: Kentucky Straight Bourbon
Age: 12
Cask: American White Oak
ABV: 45.2%
Proof: 90.4
Price: $80 (MSRP)
Nose:  Raspberry, menthol, citrus, sandalwood, beechwood, vanilla, nutmeg
Palate: Thin texture, stone fruits, oak spices, red berries, licorice, cinnamon
Finish: Damp oak, lots of oak. White pepper, ginger
Pappy, BTACs, WLW and so on. These names and abbreviations are overcrowding the whisky communities in the last years with the gouged market prices all over the US and now, the rest of the world. Van Winkle Special Reserve 12 Year Old Lot B is also one of those bottles. Even though the MSRP is at $79.99, the secondary market price over $1000 is easy to come across.
Of course, I am against this crazy overpricing attitude and never pay more than MSRP for these bottles. I want to thank my friend Whiskey Writes for supplying me with sufficient sample for this review.
If you want to check a younger one of the family, Old Rip Van Winkle 10 Years Old is ready for you to visit.
OK! Now Tell Us About That Pappy!
This was a pleasant experience, but not a $1G experience if that is what you are asking. Let's get in detail now.
The nose rapidly expresses its red fruit qualities with raspberry and cough syrup feeling which is also backed with menthol. Sandalwood, beechwood, citrus nutmeg and vanilla are distinctly felt.
The palate has a thinner texture than I imagined and I wanted. Nutty aromas blend in with stone fruits, cinnamon, licorice and a touch of berries.
The finish is long but with a lot of wood. I mean it is simply overoaked! White pepper and ginger follows oak flavors creating a dry end.
Van Winkle Special Reserve 12 Year Old Lot B is a good bourbon for what it is and actually a really good one if you can find it at the price it has to be!
But for prices like $500-700, I will pass it any time. It is just nonsense.