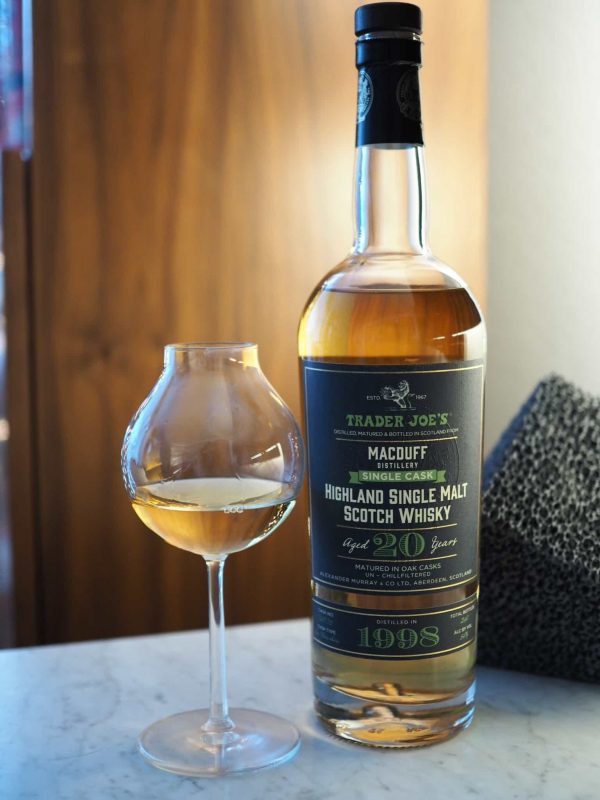 Country – Region: Scotland – Highland
Distillery: Macduff
Type:  Single Malt
Age: 20
Cask: Ex-bourbon
ABV: 54%
Proof: 108
Number of Bottles: 240
Price: $70
Nose: Grass, heather, dusty room, apples, vanilla spice, summer flowers,
Palate: Oily texture, sourdough bread, vanilla, nutty, young apricot, roasted green pepper, walnut dryness
Finish: Long, citrus, peppers, pears, toasted oak,
A surprising release in 2020 was three single cask Scotch whiskies from Trader Joe's. I came across Trader Joe's Macduff 20-Year-Old Single Cask bottle when I was shopping for Christmas dinner and it was one of the last standing two bottles, which led me to buy one and review it. Honestly, after reviewing Kirkland 22 Year Old Speyside Single Malt Whisky, I actually wanted to review it more.
This bottle is coming from the Macduff Distillery in the Highlands region neighboring River Deveron. Some of you are probably not familiar with it since the original bottlings are coming under the name Glen Deveron. Though there are numerous independent bottlers releasing whiskies under Macduff's name and this bottle is one of them bottled by Alexander Murray for Trader Joe's.
Is Supermarket Whisky Any Good?
What I have experienced over the years is that supermarket whiskies often offer affordable prices for over the par quality. However, I have never stood away from them as there were some incredible ones like the Kirkland I have mentioned above. Alexander Murray can offer them some really good casks and also some dull ones. The rule of thumb for me that has worked most of the time is picking them up by their proof. I try to purchase bottles at or above 46% abv.
How Does This Taste?
So the first nose is quite strong. At 54% abv, waiting a couple of minutes is not a bad idea. Then, the nose opens up with grass, heather, a dusty antique room, apples, vanilla spice and some summer flowers. The palate is oily and has a sourdough bread taste with vanilla, nutty aromas, young apricot, roasted green pepper. A walnut dryness is dominant toward the end. The finish is long with citrus, peppers, menthol, pears and an intense toasted oak feeling.
As it is at 54% abv, I also added some water on it and the dilution opened the nose to more flowers and apple pie. Though the palate became a little bit softer but creamier. The finish didn't lose anything from its strength and robust character.
Verdict
I don't think that anyone had any negative feelings about this whisky. It is Macduff to the core and doesn't lack any quality. At the same time, it is not an extraordinary bottle that will make me buy a second one. However, a 20-year-old single cask at $70 is not an easy thing to find now. Also, thinking that I am not really amused with Glen Deveron bottles lately, Trader Joe's Macduff 20-Year-Old Single Cask can give a good understanding about the distillery.