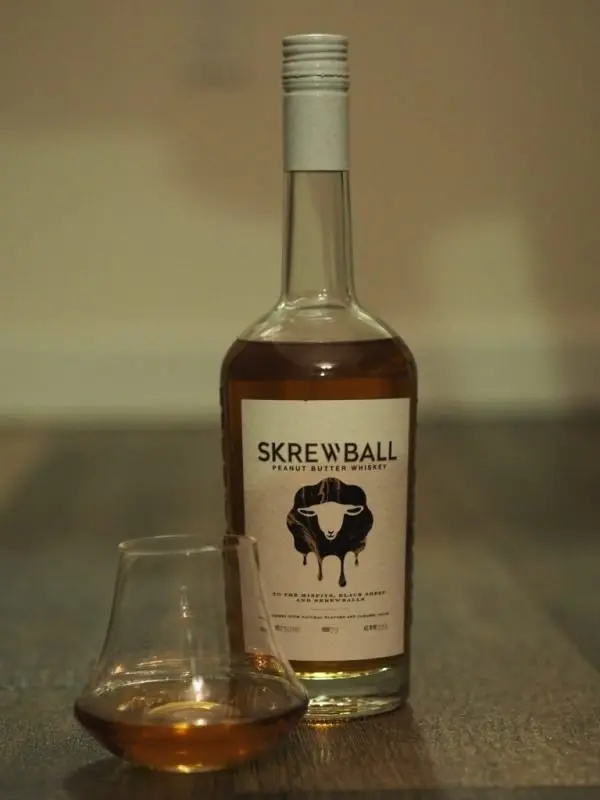 Country – Region: USA - California
Distillery: NA (California Spirits Co)
Type: Flavored Spirit
Age: NA
Cask: NA
ABV: 35%
Proof: 70
Price: $25
Nose: Imagine diving in a peanut butter pool. Then have a peanut butter shower in the pool. There is caramel, coffee cream, shortbread, toasted vanilla.
Palate: Sticky thick! Like walking in mud. Oily feeling with cinnamon, crackers and licorice.
Finish: Long finish with sweet ethanol. nutmeg, a bit heat and honey sweetness.
I don't have flavored whisky category on Whisky Monster but there should be a starting point right?
Ok! Let's get everything straight as we begin. This is no whisky or whiskey. This is in the family of flavored spirits using a base alcohol from grains that is used to make whisky. 
Skrewball states on their label that this is 'Whiskey with natural flavors and caramel color'.
Let's break down the words. A spirit can be named as whiskey if it is made with the right grain(s) and enters into an oak barrel with no restriction of aging period, so this can be seconds, hours, days. There comes the caramel into the game as it is often used as a coloring agent for younger whiskies. 
Also, to be named as whiskey, this 'aged' spirit has to be bottled at least at 40% abv.  Since, Skrewball is bottled at 35%, we can stop calling it a whiskey. They could have copied Jack Daniel's Tennessee Honey here, which honestly writes 'Honey Liquor' on the label. Anyway, rules are not that strict in the US. 
Skrewball reminded me different moments from my alcohol life. That moment I used to drink Bailey's, nut vodka which was really popular in Turkey once. It certainly is full with corn spirit and intense peanut flavor. It also has that caramel, coffee and toasted nuts in it.
Spirit itself is so thick and sticky that I had to wash my hands twice for touching a falling drop off the bottle. I believe there should be some other agents that is making this texture. It is certainly not the alcohol level or aging for sure. 
How one should drink it? Not neat! Not on the rocks! Maybe frozen in the fridge. I also checked to see if I can find more information on the spirit and cocktails but I have found the best drinking method in an article on Esquire. Dump it on vanilla ice cream!!!
If I am to buy Skrewball for anyone, it is just to 'skroo' him/her.
God! My stomach still burns.
To The Misfits, Black Sheep and Skrewballs