Country: USA 
Producer: Lost Lantern
Type: Single Malt
Age: 3
Cask: American Oak
ABV: 60.3%
Proof: 120.6
Price: $100 
Nose: Malt sweetness, overripe fruits, patisserie cream with nutmeg, orange, oak spices, subtle smoke
Palate: Creamy texture with intense malty feeling. vanilla, candied orange, vegetal notes, spicy smoke, chocolate.
Finish: Spicy, dry and very long. Cinnamon, clove, raw grainy hit at the end.
If you are a follower of mine, you probably read my review of Lost Lantern American Vatted Malt Edition No.1. If you haven't read it, please go ahead and read the history of the new American independent bottler Lost Lantern. After reviewing their first vatted malt, they were kind enough to send me a sample from their first single cask, Lost Lantern Single Cask #1 from Santa Fe Spirits.
About Santa Fe Spirits
Honestly, I heard about the distillery a lot but wasn't able to try their spirits yet. I knew that they were using mesquite-smoked barley, which actually pushed me off a little bit since I didn't have the most joyful moments with mesquite-smoked whiskies.
The distillery is located in New Mexico. It is founded in 2010 by an English man, Colin Keegan, who moved to Santa Fe! Making his distilling dreams true, after a career in architecture, Colin Keegan tried to bring a different style into American spirits.
The head distiller Kris Bohm joined the company in 2020. Kris worked for Grand Canyon Distillery and Still Austin (which probably surprised me a lot with its bourbon) before joining Santa Fe Spirits.
About the Whiskey
This is a single cask of a single malt whisky from Santa Fe Spirits. So, it is made with 100% malted barley. For me, the interesting part is 30% of that. 30% of the barley is 6-row barley varietal that is not common in European single malt making. You can particularly find 6-row barley usage with Paul John Indian Single Malt Whisky and other Indian single malt whiskies. At the same time, this 30% of barley is smoked with mesquite smoke, which creates signature flavors for Santa Fe Spirits.
The whisky is bottled at 120.6 proof and it is 3 years old. So there comes some maturation magic. Santa Fe is using its advantage of being a microdistillery and they have a climate-controlled warehouse at 7000ft altitude in the desert! This enables them to alter the maturation process in their favor by modifying the temperature and humidity.
How Do I Feel?
I have all the prejudice I need. Mesquite smoke, 3 years of age. How does the whisky taste though?
The nose shows parallel flavors with that of American Vatted Malt No.1. Malt sweetness, overripe fruits were familiar and I tested this by pouring the vatted malt and taste next to each other. The nose offers, patisserie cream with grated nutmeg, orange, oak spices and subtle smoke.
I am frankly surprised by the palate. The texture of the whisky is lovely for its age. It has a pleasant creamy feeling. Vanilla, candied orange, spicy smoke, some vegetal notes and chocolate are some aromas I felt. The intensity starts high, then mellows down at the middle and rises at the very back leading to a very spicy and long finish with cinnamon, clove. The final hit with raw grain qualities ends the tasting.
Mesquite smoke is very well refined and wonderfully balanced. It actually gave the whisky a different character rather than overpowering other aromas and flavors! Kudos to Santa Fe!
As only 211 bottles were released from this single malt, I believe it will not be easy to find it soon.
I am actually also happy to see the quality of the whisky is pretty similar to the vatted malt. The similar flavors between the two whiskies show what Nora and Adam are looking for in their spirit and I happen to like those.
Other Single Cask Offerings
Lost Lantern Single Cask #1 is not the only one they have released so far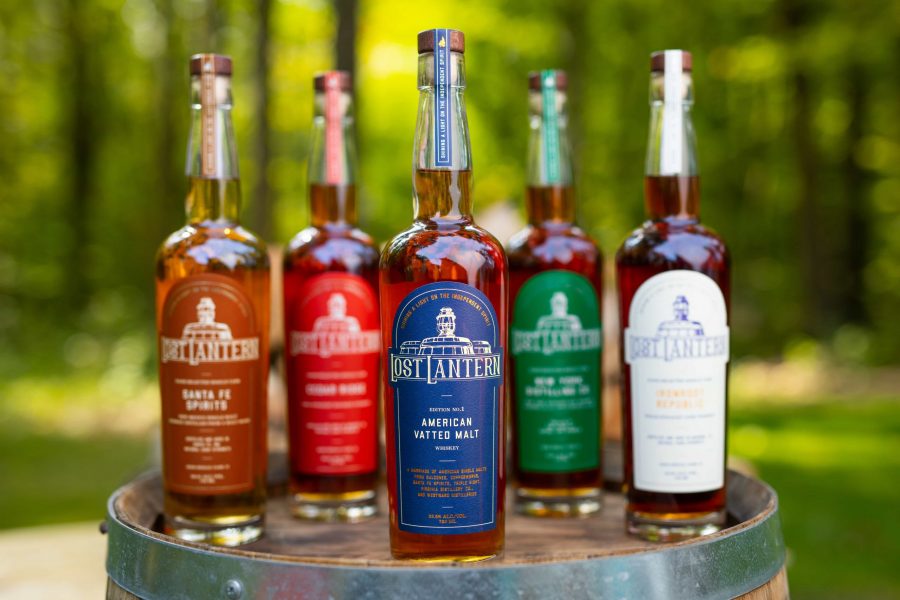 Aside from the blended malt, and this single cask, there are three more single casks that Lost Lantern released.
Ironroot Republic - Texas Straight Corn Whiskey (sold out)